Do you believe in serendipity?
I've always sort of been a believer.
The way that the Davina Dress pattern and I met certainly had to have been serendipity in motion.
You see, the evening before Kennis from Itch to Stitch contacted me and asked if I'd like to participate in her pattern company's birthday blog tour, I'd been staring into my closet, folding up a bunch of tops and tees and grumpily shuffling around all the clothes in there, preparing for what I like to refer to as the ECECWCT (East Coast Extremely Cold Weather Closet Takeover).
Now, during the ECECWCT all of the big bulky winter garments get unpacked and…well, winter clothes are big, you know? Every inch of closet space really counts. It's tough to be a summer tee or sleeveless dress in our tiny little closet when all of that goes down. So a lot of stuff gets packed away for awhile. But two (very beloved) ready-to-wear sleeveless dresses had me stumped.
Keep out and layer with a cardi and tights through winter? Or pack away and save for next spring?
Luckily, once I saw the line drawings and photos for the Davina Dress the next day, I knew that I wouldn't have to make those kinds of difficult decisions.
You see, I'd been lurking the Itch to Stitch shop a few weeks earlier and had added the Jacqueline Hoodie to my fall/winter must sew list, but this dress hadn't been released yet, so it hadn't even crossed my pattern radar. But now I was really, really excited that it had.
Because…
It had pockets!
The bodice was lined!
… And it had options for sleeeeeeeeeeeeeeves!
Sleeves! Something that, even after having lived in the city for a little over two years, and knowing that the winters out here tend to get really freezing cold, is something that is sorely lacking on most of the dresses in my closet right now.
* Squeeeeeeeeeeeeeeeeeeeeeee!* <— (Nerdy excited squeals of joy!)
So, I happily cut out the pattern and got to sewing. I even made a wearable muslin first to check the length and fit and everything. Then, on the second one, that's when I excitedly started plotting my pattern hack.
 I opted to switch up the skirt bottom, fully line it, and turn it into a super girly twirly statement skirt.
This dress was so fun to make!
I opted for the "medium-short sleeve"  (my personal favorite fall/spring sleeve length – long enough to add a little extra warmth under other warm winter layers, but short enough to not add a bunch of awkward sleeve bulk under a tighter fitting sweater or cardigan – and if you're in a place that really has the heater going, you can easily peel off a few layers and cool down much faster) for this version, but there are also options for sleeveless, short sleeves, 3/4 sleeves, and long sleeves included in the pattern.
As far as fit goes, I found it to be spot on! I checked out my measurements on the sizing chart and graded from a size 6 at the shoulders/bust to a size 2 at the waist and back out to a size 6 again at the fullest part of the hips. I also added an inch onto the two main bodice pieces to help accommodate my long torso-edness.
Surprisingly, I didn't need to make any changes at all to the skirt length! (For reference, it fell at a really nice knee length after it was hemmed the "proper" way, pre-pattern hack). But you easily could add more length if you're taller or want to add more tucks like I did below.
For my pattern hack I added a lining to the skirt (I used the skirt pattern pieces to cut out the lining, but shortened the lining by about two and a half inches so it would hang just below the highest tucks on the fashion fabric). Then I sewed some strips of gathered tulle onto it using a zig zag stitch on my machine, then added mini tucks all around the hemline to add a bit more movement (and expose more of the tulle and raw cut lining!).
Both the fashion fabric and the lining fabric came from Emma One Sock. Both were stash fabrics that I've had for a year or so (another happy serendipitous moment!), so unfortunately the fashion fabric is no longer in stock, but the lining fabric still is! The lining is this luscious and buttery Venezia 4-way jersey lining. I used some of it in my wearable muslin too and it has been holding up very nicely. It washes well and feels so nice and soft against your skin.
In fact, I think I need to go order some more for another Davina dress! Because there will definitely be more fancy secret pajamas Davina dresses in the future. I may even try out another sleeve length next time. 😉
Happy one year pattern company birthday, Itch to Stitch! Can't wait to see what other great patterns you continue to come up with in the future!
Do you believe in sewing serendipity? Has a new pattern ever come along right when you needed it?
Thanks for reading and here are some more details about the Birthday Party Tour! You can win so many cool patterns and goodies… come join in the celebration. Make sure to check out the other participating bloggers that are linked below too!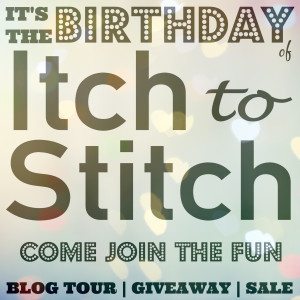 (scroll to the bottom to enter to win!)
Follow these blogs to see their awesome creations from Itch to Stitch patterns:
Scruffy Badger Time | Call Ajaire | Wally and Grace | Sew Wrong | Bella Sunshine Designs Seaside Notions | Made by Jaime | Sweet Little Chickadee | Inspinration | Friends Stitched Together Stoney Sews | Just Keep Sewing | My Little Sewing Dreams | Allie J. | Creative Counselor Love, Lucie | Girls in the Garden |  FABulous Home Sewn | Goddess of Sewing | Rebel & Malice The Telltale Tasha | House of Estrela | Made by Sara | Sew Shelly Sew | Red Knits
Be sure to scroll to the bottom for your chance to win great prizes by these sponsors:
The Fabric Store – $100 Gift certificate
Elliott Berman Textiles – Fabric bundle from France & Italy
Craftsy – three online classes of your choice
Girl Charlee Fabrics – $25 Gift certificate
Indie Sew – $25 Gift certificate
UpCraft Club – $25 Gift certificate
Quarto Publishing Group USA – the SHIRTMAKING WORKBOOK by David Page Coffin
The featured designer of the day will give away 2 patterns to a lucky winner:
Follow Itch to Stitch's blog closely to win these patterns!
P.S. Kennis is having a HUGE pattern sale right now too! If you'd like to pick up your own copy of the Davina Dress (Or any of her awesome patterns, for that matter! This hoodie and this (free!) skirt pattern are both also on my fall/winter sewing list.), hop on over to her shop and use code 20off for 20% off one pattern, 30off for 30% off two patterns, or 40off for 40% off three or more patterns. Not to, you know, be a big time sewing pattern enabler or anything. 😉
(It's worth mentioning that although I received a copy of this pattern for this post, all opinions are my own! I would never recommend a pattern or product that I didn't truly enjoy.)
Have a great weekend!